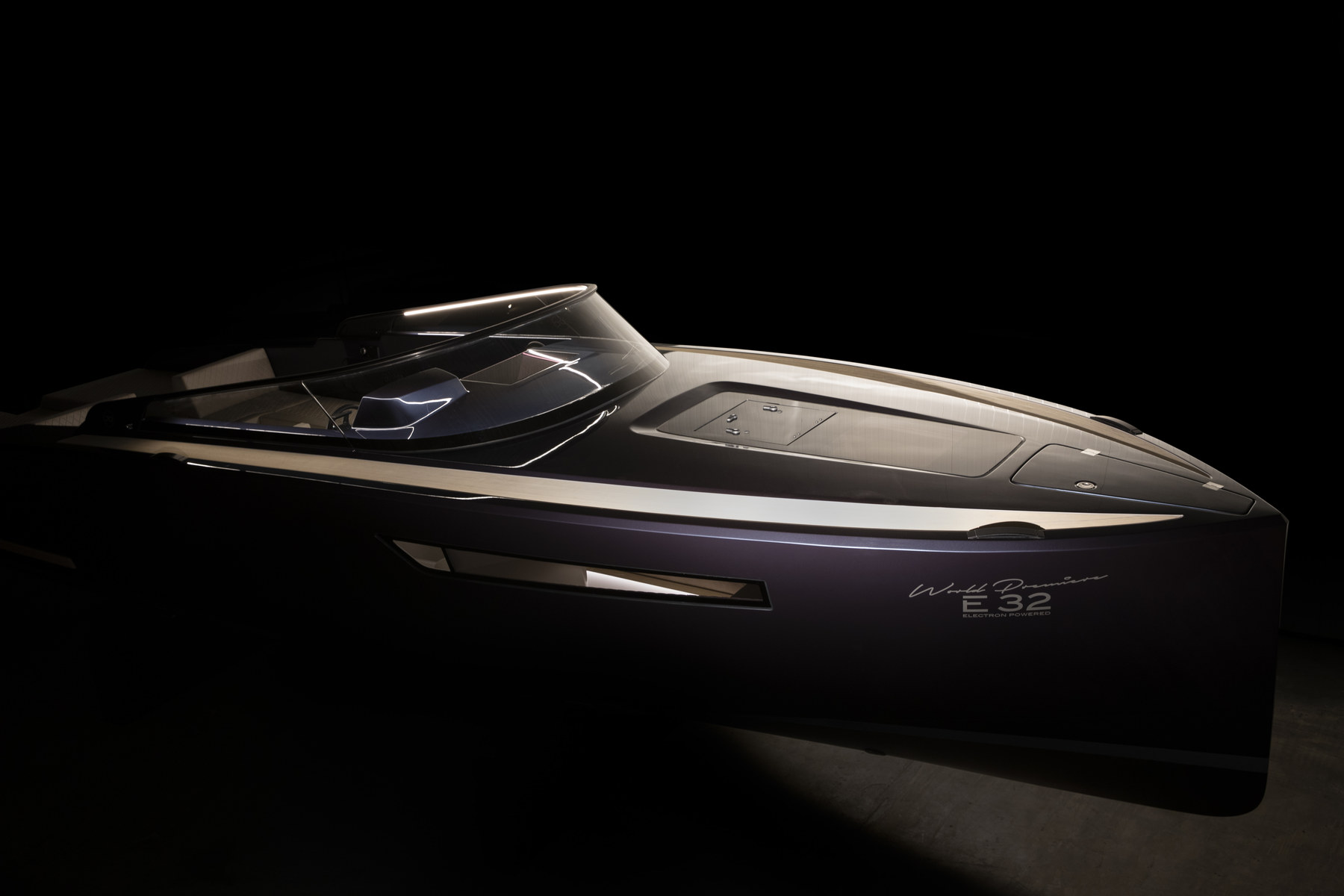 Photo: domaniyachts.com
Domani E32 - beautiful electricity on water
2020-01-26
Automatisk översättning:
World premiere at Boot Düsseldorf.
The new DOMANI E32 Chaseboat was presented in Düsseldorf. This is a new electric powerboat with a range up to 100 nautical miles. According to the shipyard this is possible through a new hull type that is more like a sailboat hull and therefore more easily driven in moderate speeds.
This is a day cruiser with generous outdoor space, but there is also a toilet, pentry and 2 berths. The seating well consists of 2 long sofas and a driver's seat. Behind the cockpit is a large sun deck, actually reminiscent of some sailboats. The shipyard also says that it is similar to sailing to be out with a Domani E32, the boat slides forward as quietly as a sailboat and at about the same speed. The yard believe that people who have previously sailed are a large customer base that they want to reach.

When it comes to electric motor boats, range is always a critical issue and is always a function of resistance, battery capacity, time and speed. Domani has chosen a hull that is easily driven in moderate speeds, in 8 knots you should be able to reach 100 nautical miles with the largest battery pack, which means 8 hours of driving. At 15 knots the range is reduced to 35 nautical miles and just over 2 hours driving.
It is clear that the boat is designed for moderate speeds.

The boat is beautiful and well built with a very good finish in every detail.

Specifications
Design: DOMANI & AHA Creatives
Naval architecture: Bosgraaf Yacht Design, Amsterdam
LOA: 9.5 m
Beam: 2.7 m
Weight: from 2000 kg
Most efficient speed: 7-12 kn
Max speed: 20 kn
Engine: 50kW High Voltage Direct drive